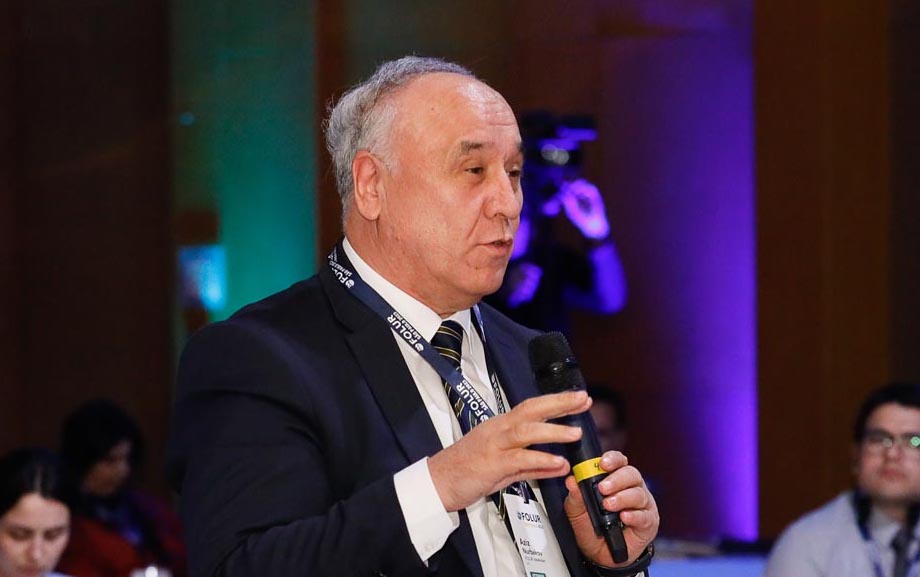 _________
Wheat is a key food security crop in Uzbekistan, but until the country became independent in 1991, most wheat was imported from other parts of the former Soviet Union and local production met only 20 percent of domestic demand. The staple grain now ranks in importance second only to cotton.
Other crops produced in Uzbekistan – a country with a rich agrarian history participating alongside 26 other countries at the recent Food Systems, Land Use and Restoration program (FOLUR) annual meeting in Sao Paulo – include vegetables and fruit.
After independence from the Soviet Union, two of the government's major goals included increasing self-sufficiency in wheat and increasing foreign exchange revenue through cotton exports. This policy inadvertently led to cotton and wheat monoculture in most parts of the country.
Since then, as part of a series of changes in the sector, the wheat area under irrigation has grown significantly and in total -- including rainfed areas -- covers about 1.15 million hectares, an increase that stimulated the use of modern crop production technologies such as improved varieties and associated management practices.
Now, about 80 percent of the total irrigated area of Uzbekistan is planted with cotton and wheat and most government efforts are designed to expand the productivity and production of these two major crops.
Intensification is a key strategy as the government aims to increase wheat gross production, said Aziz Nurbekov, Uzbekistan National Project Manager of the FOLUR project with the Food and Agriculture Organization of the United Nations (FAO) who is also a professor at Tashkent State Agrarian University. The project will support 5,000 smallholder – known locally as dehkan – wheat farmers who cultivate an average land area of half a hectare or less.
The 350,000-hectare, $78.8 million project, which includes co-financing of almost $73 million, is taking place in the autonomous Republic of Karakalpakstan and the province of Khorazm in the northwest of the country where the focus is on soil salinity and biodiversity in protected areas. In Qashqadaryo, in the southeast rainfed and irrigated areas, the focus is on drought areas and biodiversity in protected areas, Nurbekov said at the annual meeting.
STRATEGIC INTENSIFICATION
The FOLUR projects dovetail with Uzbekistan's 2020-2030 Agriculture Development Strategy, which is concentrated on modernizing the agri-food sector, improving environmental protection and implementing rural development programs. It also aims to build food security, safety, and self-sufficiency, while encouraging nutritional dietary improvements.
The components of the FOLUR projects include working within the regulatory framework, supporting the government of Uzbekistan, while focusing on wheat production landscapes, biodiversity issues and capacity-building activities.
In Qashqadaryo, this effort means supporting smallholder farmers to process wheat flour by accelerating production of landraces and wild species through technological innovation such as no-till practices, crop rotation and use of crop residues, Nurbekov said.  In some remote areas, there is a problem with accessing electricity to drive the mills, so the project involves providing renewable energy using wind, water and solar.
"Without electricity, farmers need to descend from the mountains, which are sometimes impassable for three or four months in winter, to flat areas to get wheat flour, or take their grain to mill," he said, explaining that a mill driven by solar power even during the winter will eliminate the need to travel.
The farmers also face another challenge solar energy will help resolve. The stones that grind the grain are driven by water, which turns to ice in winter. The farmers produce wheat mainly for their own use, but if they can grind it themselves and produce excess, they can also generate income by selling it in local villages.
Capacity building activities will be focused on wheat production, value chain issues in addition to processing and use of solar powered equipment. Roughly half the farmers are women and the FOLUR project team will be developing a gender strategy for the Uzbekistan Ministry of Natural Resources.
Soil health and biodiversity conservation, including the introduction of pollinators, will also be a priority as wheat farmers learn intensification methods, so they do not have to expand their footprint into pasturelands.
"We're going to neutralize land degradation," Nurbekov said. "Then in the long term – maybe after 10 or 20 years – soil fertility can be increased."
TOWARD SELF-SUFFICIENCY
These efforts under the FOLUR umbrella build on agricultural policies that initially emerged after independence. As a landlocked country with limited access to international markets, ensuring food security through domestic production became strategically important in Uzbekistan.
In more recent decades, agricultural policy has mainly been underpinned by government monopoly over agricultural production and marketing in a system where the constitution enshrines the right of land ownership to the government which distributes land to farmers and sets quotas predetermining the selection of agricultural products to be grown through public procurement contracts.
Formerly, access to strategic food imports became less secure due to the abolition of centrally coordinated commodity supply and subsidy systems between Russia and the Soviet Socialist Republics. Subsequent post-Soviet structural changes reduced regional trade.
~ By Julie Mollins, published May 23, 2023