Project Overview
Viet Nam's agricultural sector is centered around rice, with 60 percent of the 17 million residents of the Mekong Delta engaged in cultivation. Emphasis on increased production has resulted in fragmented land-use planning with extensive use of agrochemical inputs, which has led to human health issues, land degradation, water pollution, loss of biodiversity and elevated greenhouse gas emissions. Women farmers in particular have also experienced a fragmented value chain, lack of investment sources, limited access to information and technical knowledge, and lack of a committed sourcing strategy by export companies. Through various public policies, the country aims to support sustainable land-use and climate-resilient development. This project builds on those policies to adopt an integrated, multi-level approach that addresses sustainability and social inclusion in rice production landscapes while also targeting poverty and food security, biodiversity and water conservation, climate mitigation and human health impacts. 
Commodity:

Rice

Area Covered:

1,800,000 hectares

Executing Partners:

Ministry of Natural Resources and Environment

Food and Agriculture Organization of the United Nations (FAO)

GEF Implementing Agency:

FAO

---
The project will demonstrate the potential for integrated, inclusive, and sustainable management approaches in a rapidly developing and trade-oriented economy that address the underlying drivers of environmental degradation. In addition to integrated landscapes and biodiversity conservation, the project will include public-private sector partnerships, promoting access to credit and de-risking of investments and financial services which maximize integrity — traceability and transparency — and sustainability — economic, social and environmental — of rice value chains. This project will also encourage development of "sustainable rice contract" models to satisfy heterogeneous needs of different segments of buyers — food companies, millers, exporters — and farmers. Additionally, the project will leverage the private sector by developing locally appropriate and equitable incentives that link small holder outputs to local and global markets for sustainably sourced commodities from sustainably managed landscapes. This project intends to engage public sector actors through supporting national and sub-national policy and legal frameworks for sustainable rice landscapes and value chains, as well as through outlining the roles and responsibilities of a multi-stakeholder coordination mechanism at those scales. It will also assess existing incentive mechanisms that encourage public investments in sustainable rice production and support development of a national framework to link smallholder farmers to recognized sustainability standards for rice and other commodity production.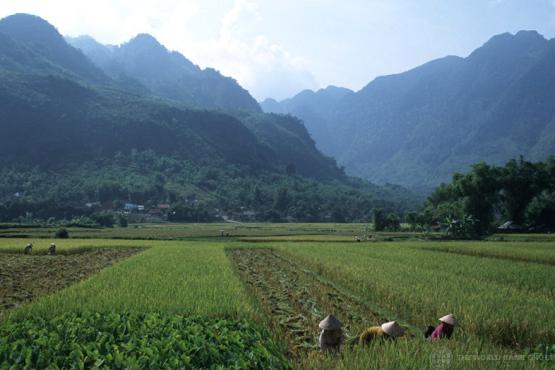 ---