Rice is a key staple food — one of the world's top three, alongside wheat and maize — and the most important food crop in low- and middle-income countries. Projections indicate that rice yields will plummet 10 to 15 percent as climate change takes its toll, putting millions of people at risk of food insecurity.
Sustainability Opportunities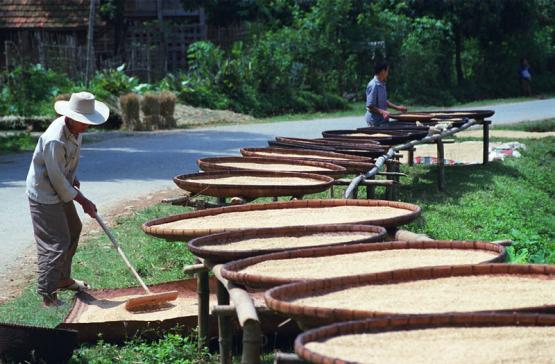 As demand for rice accelerates, efforts to ensure it is produced in a resource-efficient, less wasteful, sustainable and resilient manner are required. Not only are water resources under pressure, but strategies to curb the environmental impact of rice production on global warming due to high greenhouse gas emissions include reducing methane and nitrogen emissions. Rice uses vast amounts of water, degrades soil and water quality, accelerating climate change and ecosystem degradation. Agricultural expansion and monocultures have led to deforestation and land degradation, with negative consequences for wildlife habitats and biodiversity. In some areas, peatlands and wetlands have been drained for rice, and the risks are amplified.
Adopting climate-smart agriculture techniques on a wide scale and improving water, plant, soil and nutrient management will help with adaptation and mitigation. Reconciling various competing social economic and environmental interests through an integrated landscape management approach will help achieve equilibrium between public and private sector pressures. Strengthening policy and planning frameworks designed through multi-stakeholder engagements for integrated landscape management, commodity value chains and landscape governance at all levels will support these transitions. Unsustainable practices also lead to lower yields, leading to food insecurity.
---
Transformation of rice systems through sustainable production, reduced deforestation from commodity supply chains, and increased landscape restoration will lead to higher yields, while conserving biodiversity and ecosystem services. Working with producer organizations, and networks throughout the value chain will improve standards and practices, emphasizing the importance of integration between agriculture and land conservation sectors to produce more with less. Improved resilience throughout the value chain, will offer economic opportunities, particularly to women who make substantial contributions to rice production, but in many cases have limited access to technical knowledge, investment sources and access to export companies.
Governments are interested in keeping key food staple commodities affordable and available. Improving policies through a multi-stakeholder process to help farmers earn higher incomes while reducing rural poverty are also a central goal. If projects create sustainable, more intensive, integrated climate smart rice farming systems, which conserve biodiversity and promote restoration, yields and returns should improve for farmers. Embedding social inclusivity in policies and value supply chains for the rice production sector, including financial and market mechanisms and incentives is also key to create enabling conditions. 
---
Country Project Highlights
FOLUR is working on rice projects in the following countries:
China
India
Indonesia
Tanzania
Thailand
Vietnam
---