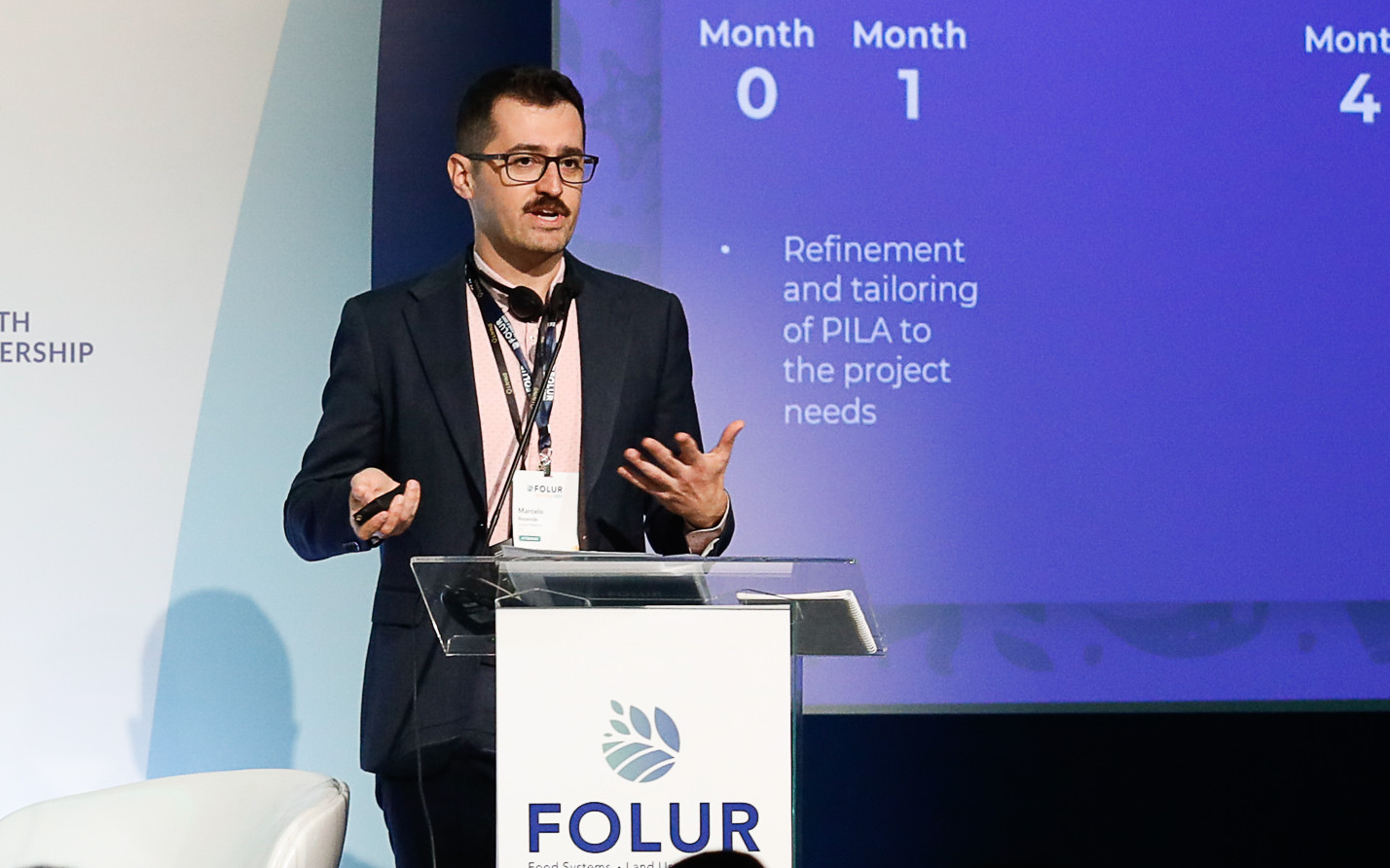 ___________
A new framework designed to support countries in transforming agricultural systems by scaling up sustainable production, restoring ecosystems and alleviating pressure on forests to improve food value chains, will soon be put to the test.
Delegates representing the Food and Agriculture Organization of the United Nations (FAO) at the recent annual meeting of the Food Systems, Land Use and Restoration program (FOLUR) in São Paulo demonstrated how the Participatory Informed Landscape Approach (PILA) would launch, initially shaping projects in India, Nicaragua and Kenya.
The three countries are among 27 in total participating in FOLUR, which is funded by the Global Environment Facility and led by the World Bank to reshape livestock, cocoa, coffee, maize, palm oil, rice, soy, and wheat commodity value chains.
About 23 percent of global greenhouse gas emissions derive from agriculture, forestry, and other land use sectors, roughly half of which are due to deforestation. FOLUR projects are meant to reshape commodity supply chains that harm the climate, limiting economic growth and that can exacerbate rural poverty.
Sustainable agricultural production is central to ensuring food security and nutrition, livelihoods, alleviating poverty, conserving and sustainably using biodiversity.
FAO, as one of the five FOLUR partner organizations – which also include the Food and Land Use Coalition, the Global Landscapes Forum, the Good Growth Partnership and the International Finance Corporation – leads 10 FOLUR country projects and jointly leads two others.
In India, the goal is to transition rice-wheat cropping systems to more sustainable practices by recycling crop residues that would otherwise be burned in fields, achieving multiple benefits by improving soil health and reducing greenhouse gas emissions.
Kenya is tapping into opportunities to develop a more sustainable and inclusive coffee value chain and a sustainable maize production system. The project focuses on the Mount Elgon water tower, a critical transboundary resource between Kenya and Uganda. One of the country's five main water towers, it is an important socio-economic ecosystem, supporting multiple sectors including smallholder agricultural production. By restoring ecological functions in the landscape, the project aims to improve coffee and maize production.
In Nicaragua, the project supports development of biological corridors based on agroforestry to restore landscapes and safeguard the Indio Maíz Biological Reserve in the southeast of the country to improve livestock and cocoa production systems.
The projects will apply PILA, which through multi-stakeholder workshops and participatory data collection and analysis provides support for collaborative and sustainable landscape management, developing rights-based land-use plans, and transforming governance of productive landscapes.
"A key aspect of PILA is that it initially looks into what the countries are already doing on integrated landscape management, which means we won't duplicate, but will leverage and enhance the work they're undertaking," said Marcelo Rezende, a natural resources officer with FAO, who delivered a presentation on PILA at the recent FOLUR annual meeting.
"It needs to be fully aligned with the FOLUR country work plan that they need to realize in a specific timeframe, an understanding that's crucial for the rollout."
The scope of the initial work will be in India, Kenya and Nicaragua and will involve leveraging and learning from past GEF projects​​, examining the current strengths and weaknesses of the agricultural landscapes in terms of sustainability and resilience.
The aim is to develop a common vision for the future of the landscape and explore different pathways to achieve it, including through transformative governance, incentives and finance, Rezende said, adding that this is where PILA's analytical tools and facilitated multi-stakeholder process are key to support informed negotiation and decision making.
"It's about data collection, it's about informed decision making, it's about multi-stakeholder consultation and transformative governance," Rezende said, explaining that the building blocks include an open and easy to use geospatial platform​, field and farm level information.
To scale up these efforts, PILA will link to work by FAO with FOLUR on what are referred to as "sustainability instruments."
This includes scoping work on the potential for strengthening the contribution of global sustainability standards to agri-food systems and revealing the true cost of commodity production. It also includes the application of responsible voluntary standards on the use of pesticides, fertilizers, soil management and livestock, Rezende said.
Sustainability finance standards and analysis and realignment of subsidies as incentives for halting deforestation will also be explored in addition to traceability systems for commodities in terms of market access, he said.
~ By Julie Mollins, published July 5, 2023