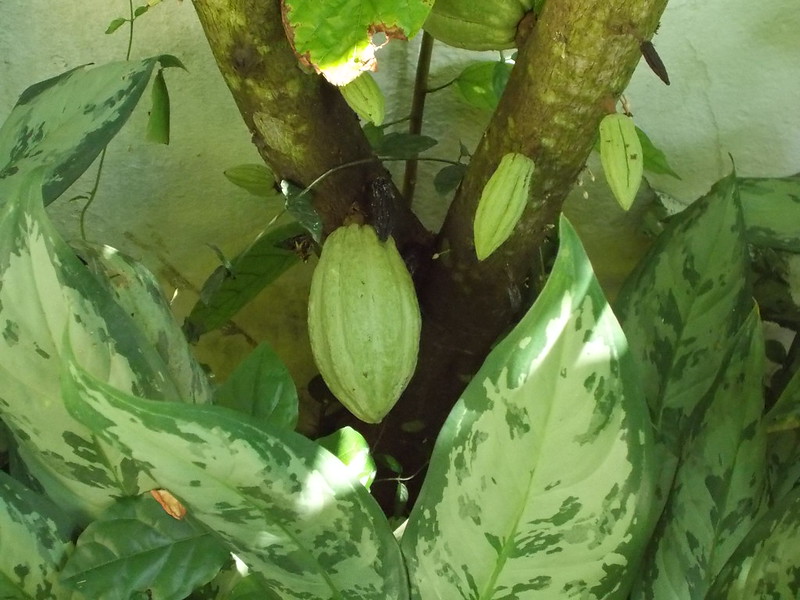 _________________
The application of agricultural lime has long been recognized as an effective approach to neutralize soil acidity and achieve higher agricultural yields in African countries.
The pulverized limestone, known colloquially as "ag lime," can be scattered and mixed into the soil, improving nutrients, microbial activity and plant growth.
Now, through a knowledge sharing initiative, spearheaded by the World Bank-led Food Systems, Land Use and Restoration Program (FOLUR) and delivered by its partner the International Finance Corporation (IFC), which works with governments and the private sector to support economic opportunities in the Global South, agricultural technicians and farmers in Guinea, Ivory Coast and Liberia are gaining greater knowledge on the use of agricultural lime to enhance productivity and accelerate the restoration of degraded lands with acidic soils.
In a series of three recent webinars on cocoa in the three countries, experts explained practical applications of ag lime, potential benefits for farmers and ultimately, its capacity to contribute to economic growth.
IFC shared insights from training expertise shaped in collaboration with Mali and the International Fertilizer Development Center for technical specialists.
"We've worked with the FOLUR team in Liberia to adapt manuals for smallholder cocoa production," said Richard Colback, leader of the IFC Sustainable Crop Production Platform. "We also have access to a pool of technical experts, globally, that focus specifically on cocoa."
Greater incorporation of lime on smallholder and subsistence farms can reduce reliance on tropical swidden agricultural systems, which involve rotational plantings and burnings on the land and exacerbate deforestation.
Liberia's government is advancing a sustainable development agenda through various policy initiatives to address rapid forest loss while working on harmonizing land-use planning. The country's FOLUR project seeks to address ecological challenges mainly posed by cocoa.
In Liberia – where more than 70 percent of people rely on agriculture for their livelihoods – the acidity found in 75 percent of soil diminishes the capacity to improve food security and increase efficiency in agricultural value chains, putting farmer livelihoods and the health of the national economy at risk.
Guinea and Ivory Coast face similar agricultural hurdles due to extensive soil acidity. Guinea is addressing deforestation and land degradation by establishing relevant public policies in its FOLUR project, which mainly addresses weaknesses in rice value chains, and the Ivory Coast project is developing detailed, integrated landscape management frameworks for cocoa. 
While agriculture is central to the economies of the three countries, smallholder farmers are limited by factors including lack of fertilizer, irrigation, good seeds, access to credit, good storage facilities and transportation.
LIBERIA IN LIMELIGHT
In a webinar on the Liberia project titled "Agricultural lime: An effective tool for combatting soil acidity and increasing yields," experts illustrated how the substance can ensure agricultural practices become more productive and sustainable.
Integrating sustainability into the cocoa sector in Liberia while increasing yields is centralized in three areas including investments and cocoa marketing, sustainable production, quality control and environment, and climate change, said presenter Paul Cedric Tossavi, a cocoa and water management and irrigation specialist working for IFC.
In Liberia, 40,000 farmers cultivate an average of 1.2 hectares of cocoa in combination with secondary food crops, he said.
The challenges are substantial but can in no small measure be corrected by liming, said Leticia Sarong Sonon, a soil specialist with IFC. Not only is 75 percent of soil in Liberia acidic, with a pH level of below 7, in part due to natural origins, she explained, but nitrogen fertilizers, acid rain caused by industrial atmospheric pollution, decomposition of organic matter from tillage, leaching or runoff loss that permit acidic aluminum ions to dominate and the removal of basic nutrients – calcium, magnesium and potassium – in harvested crops all play a role.
Liming increases soil pH, improves availability of soil nutrients for plants, improves soil aeration, water infiltration, root growth, soil biological activity and the effectiveness of mineral fertilizers, Sonon said.
The FOLUR project in Liberia, which is designed to reduce deforestation from cocoa and palm oil value chains is managed by Conservation International. In addition to land restoration, targets include strengthened governance, and improved land allocation and use, leading to improved sustainable production of food and commodity crops, said technical director George Llebo, adding that gender sensitive policies are also part of the mix. The project will support 50,000 direct beneficiaries – 25,500 men and 24,500 women.
OPPORTUNITY IN GUINEA
In Guinea, agriculture is the main sector of activity for nearly 80 percent of the population and the main source of income for 57 percent of rural people. The acidity level of the soils is estimated at 54 percent. The soil area with a pH between extremely acidic and moderately acidic occurs in 13.6 million hectares out of a total of 25 million hectares.
Guinea is considered the water tower of West Africa and this, combined with the high iron content – known as ferruginous – make up of the soils, is the basis of natural acidity. The acidity of soils is mainly due to the leaching of basic minerals and the degradation of organic matter, especially in forest areas. In addition, in acidic soils high levels of aluminum and manganese can be the main factors limiting crop growth.
Liming is not a widespread practice in Guinea, but it can be an opportunity to curb the phenomenon of soil acidification, particularly in lowland and plateau rice cultivation. Carrières et Chaux du Mali, (CCM) a company specialized in the production and commercialization of agricultural lime has received several requests from private companies for the supply of dolomite in Guinea, but it is still at a nascent stage. 
IVORY COAST ACIDITY
In Ivory Coast, the agricultural sector employs 46 percent of the workforce and supports two-thirds of the population.
The acidity level of the soils is estimated at 45 percent with an area of 14.4 million hectares of soils with extremely acidic or moderately acidic pH out of a total of almost 32 million hectares.
The soils in Ivory Coast are mainly ferritic detergents to tropical ferruginous, conducive to acidification because they have very low bases. Oil palm and rubber trees are very tolerant of these types of soils, unlike cocoa and bananas, which require corrections and fertilizers to achieve good yields.  
The practice of liming dates back to colonial times and in some sectors such as cocoa and bananas, it is increasingly systematically applied. Liming products such as dolomite and calcium carbonate are imported due to a lack of quality deposits. CCM is increasingly asked to be a supplier of these products, especially to banana producers. Since the advent of the IFC-CCM project to support CCM's permanent working capital needs and critical new equipment upgrades to ramp up capacity this trend has been reinforced.
[Published June 1, 2023; by Julie Mollins]