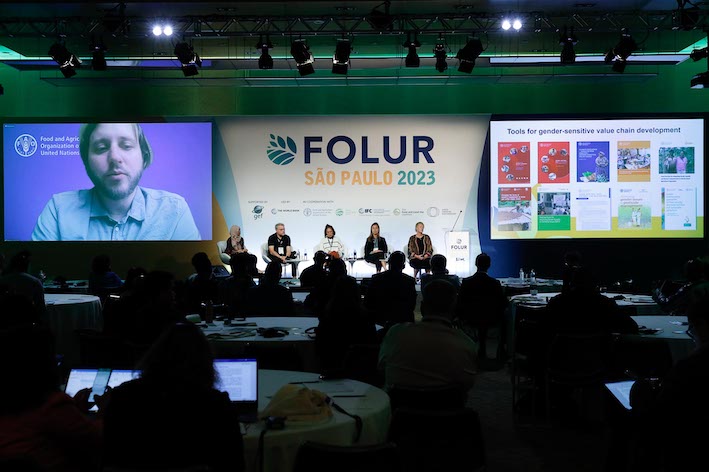 __________
By Patti Kristjanson and Julie Mollins
As we head to Vancouver to join a gathering of environmental leaders from 185 countries at the 7th GEF Assembly next week, we are reflecting on why this presents a key opportunity for women and others working on gender issues and food systems change.
The assembly hosted by the Global Environment Facility (GEF), the biggest multilateral fund focused on biodiversity and the environment, offers a chance to raise the visibility of the key role women play globally all along food value chains, from food production to processing and preparation. It also offers a chance to shine a spotlight on how Indigenous Peoples, youth and marginalized ethnic groups are also critical agents of change in the shift towards regenerative farming practices that also protect the environment.
The GEF-funded Food Systems, Land Use and Restoration Impact Program that we are part of recognizes that the transformational and environmentally sustainable changes needed in global food systems fundamentally rest on the actions of the people managing rural landscapes. Too many of those people are still not being heard and empowered to take up new and innovative management approaches.
Going into the GEF gathering from Aug. 22 to 26, it is timely to reflect upon what gender-responsive activities FOLUR project teams are undertaking. Projects are starting to swing into gear, and we are pleased to see clear examples of country project teams that are being encouraged and supported to implement targeted gender activities that are empowering women, youth and Indigenous Peoples.
These include:
Ensuring women's active participation in local integrated land use planning processes by providing childcare in Ukraine and Mexico. This trial program provided childcare in the same physical space as the workshops, but they encountered some difficulties. Often, the right space for the workshop might not be the right space for childcare while legal implications, the need for trained staff, and insurance issues complicated provision of childcare.
Strengthening project teams' and private sector partners' capacity to identify, measure and reward women's empowerment activities in FOLUR projects in Nepal, Mexico, and Brazil by learning about how to apply the W+ Standard, a women's empowerment certification system.
Designing rural extension/advisory services and land certification targeted towards women producing coffee in Burundi and Ethiopia.
At FOLUR's recent annual meeting, we heard how the FOLUR Mexico project team is integrating gender-focused activities in their regenerative livestock and agroforestry project. Team member Ana Isabel Fernández Montes de Oca described how a gender diagnosis undertaken with producer groups resulted in recommendations for multiple actions to ensure more women are in leadership roles and to increase incomes and social benefits for women. Inclusive communication and training approaches are critical, she explained.
FOLUR is also sharing lessons from a WB-supported forest landscape project in Nepal that is pursuing empowerment activities that can be measured, valued and rewarded. The W+ Standard is an established approach available to allow FOLUR and other project teams to do this. It measures how women are empowered through interventions aimed at a wide variety of areas that include enhancing leadership skills, improving food security, targeting health outcomes, improved access to technical knowledge, higher income and assets, and time-saving technologies.
For example, an innovative regenerative agriculture project is empowering women and youth in Brazil. It supports the creation of groups and cooperatives in three areas offering education, capacity building and implementing agroforestry systems that enhance biodiversity and incomes. It measures and values the increase in women's income and assets and leadership activities, selling women's empowerment (W+ Standard) credits to private sector investors alongside carbon credits.
The fact that GEF is supporting environment-focused programs and initiatives that recognized the importance of, and put levelling the playing field for women, youth and Indigenous Peoples at the forefront is a real game changer that is welcome and will markedly enhance their impacts.