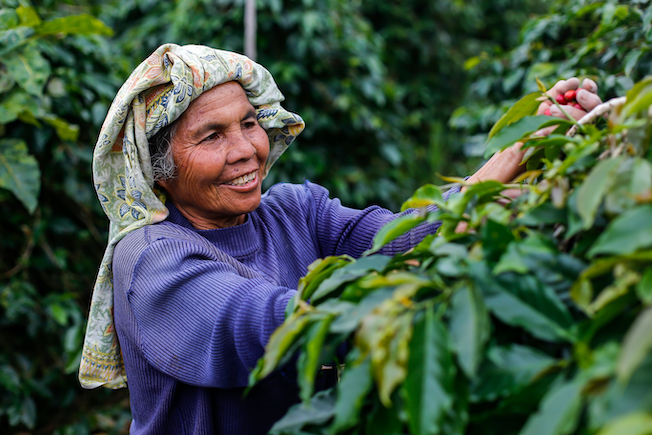 As the world balances on the edge of environmental collapse, it becomes ever clearer that actions at all levels – from personal to global – are of paramount importance in recalibrating the current trajectory of the human impact on the planet.
Over the course of 2022, urgent efforts to rebuild economies amid the complex and devastating upheaval provoked by the COVID-19 pandemic and the war in Ukraine included addressing the need to rebuild relationships with the natural world.
FOLUR continued injecting "green" agri-business ideas into the global conversation, while simultaneously ramping up projects to improve the ecological footprint of eight commodities that lead to deforestation – cocoa, coffee, livestock, maize, palm oil, rice, soy, wheat – in 27 countries.
Consistent action touch points through FOLUR partner collaborations, online and in-person events, enhanced strategic groundwork for these efforts and began to shake loose potential obstacles to coherent government and company policy reforms.
About 23 percent of global greenhouse gas emissions derive from agriculture, forestry, and other land use sectors, about half of which are due to deforestation, supporting supply chains that damage the climate, limiting economic growth and engendering poverty.
An event in November hosted by the Global Landscapes Forum (GLF), which is jointly coordinated by the Center for International Forestry Research, the World Bank and the U.N. Environment Programme, highlighted the challenge posed by efforts to quantify the contribution of Scope 3 emissions to global warming. Defined as all indirect emissions that occur throughout the value chain of a company, Scope 3 emissions result from activities not under its ownership or control but upon which it has an indirect impact in its value chain. 
Scope 1 emissions are those produced by assets owned and controlled by the company and Scope 2 emissions are indirect greenhouse gas emissions produced by energy generated offsite and consumed by the company.
FOLUR recognizes that halting deforestation is a cost-effective action for mitigating climate change and keeping average global temperatures from rising more than 1.5 degrees Celsius above pre-industrial times.
The most recent major study from the Intergovernmental Panel on Climate Change (IPCC), reported that many natural landscapes are at the point of no return and that unless action on global warming is taken, the planet will become uninhabitable.
On the global stage, 2022 ended with an uptick for nature with delegates at the COP15 talks in Montreal reaching a deal over ambitious new biodiversity targets, specifically to protect 30 percent of land and oceans by 2030, the 30-by-30 goal. FOLUR produced a video jointly with GLF to shine a light on the importance of the targets for landscape restoration.
In December, the European Union agreed a law to prevent firms from selling high deforestation risk commodities to EU countries, including beef, cocoa, coffee, palm oil, soy, wood, and some related products.
At the COP27 climate talks in Sharm Al-Sheik, 26 countries and the EU, which account for 33 percent of the world's forests and almost 60 percent of global gross domestic product (GDP), launched the Forests and Climate Leaders' Partnership. It follows from the Glasgow Leaders Declaration for Forests and Land Use made by more than 140 countries at COP 26 in 2021 to halt and reverse forest loss and land degradation by 2030 while delivering sustainable development and promoting an inclusive rural transformation.
The efforts keep alive various agreements to end deforestation in non-binding U.N. agreements, including the New York Declaration on Forests (NYDF) agreed by U.N. member countries in 2014.
Stopping deforestation is considered a cost-effective means of avoiding planet-warming greenhouse gas emissions, including, as the report details, 14 percent of the amount required up to 2030 to stay below 1.5 degrees C, according to the latest "State of the World's Forests 2022," produced by the U.N. Food and Agriculture Organization (FAO). It estimates that more than half of world GDP – $84.4 trillion in 2020 – is dependent upon ecosystem services, including those provided by forests.
Each year, FOLUR reports its performance against the goals and objectives of the overall strategic plan, detailing key moments and insights in its annual report.
Read the FOLUR annual report here.
                                                                                                                                                                                                          [By Julie Mollins, Jan. 18, 2023]